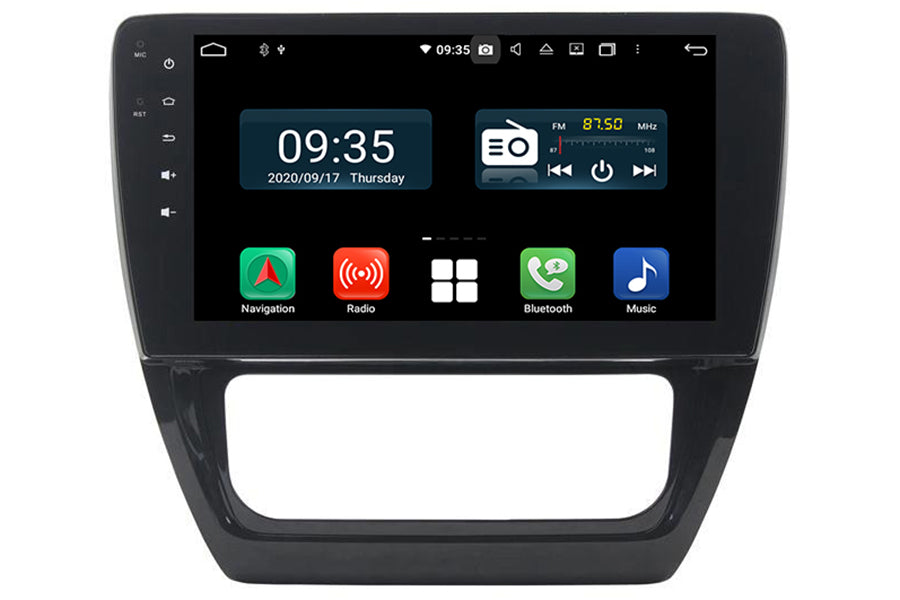 Volkswagen Sagitar 2012-2014 Aftermarket Radio Upgrade
CarPlay/Android Auto:
No Thanks
Front In-Dash Camera:
No Thanks
Aftermarket head unit for Volkswagen Sagitar 2012-2014. After upgrading the original head unit to this new unit, you will get an intelligent entertainment system with Touchscreen/Navigation/FM/AM/Bluetooth hands-free phone call/Bluetooth music/USB/SD/AUX-IN/Wi-Fi/Backup camera(camera is optional)/TV(tv tuner is optional)/DAB+(tuner is optional)/TPMS(TPMS unit is optional)/Front In-Dash camera(camera is optional)/Apple CarPlay/Android Auto and Google Play store, etc.
---
Compatible Vehicle:
VW Sagitar 2012, 2013, 2014

Note above year range is for your reference only. Send a photo of the dashboard(radio system) to us if you are unsure about fitness.
---
| | | |
| --- | --- | --- |
| CPU |        | 64-Bit 8-Core Cortex-A53 1.5GHz |
| RAM |   | 4GB |
| Capacity |   | 64GB |
| Display |   | 6.2" 800*480 Capacitive Touch Screen |
| Network |   | Wi-Fi |
| SD card |   | Two micro sd card slots |
| USB port |   | Two USB ports |
| Amplifier |   | Built-in 4*45W DSP sound amplifier |
| Audio Output |   | Front left, Front right, Rear left, Rear right, and Subwoofer(RCA port) |
| Audio/Video Input |   | Left/Right Audio and video input(RCA port) |
| Camera Input |   | One camera input(RCA port) |
| Microphone  |   | Internal & External  |
| GPS receiver  |   | Built-in GPS module and external GPS antenna |
---
   Navigation

    * Free maps preload and free updates
    * Stunning 3D visualization
    * Text-to-speech direction
    * Support Google Maps, Waze, Sygic, etc.

   DVD

    * Not Support DVD/CD

   Radio

    * Built-in AM/FM tuner
    * Support RDS
    * Support DAB+(tuner is optional)
    * NOT support Sirius/XM radio

   Apple CarPlay

   * Support Apple Carplay with iPhone 

   Bluetooth

    * Hands-free phone call
    * Load the phone book from your mobile phone
    * Bluetooth music stream A2DP
    * Internal & External Microphone
    * Compatible with iPhone & Android mobile phone

   Android Auto

    * Support Android Auto with an android phone

   Backup Camera(camera is optional)

    * Display reverse image automatically
      once put in the reverse
    * Sony CCD camera with night vision

   SD/USB

    * SD card/USB music, video, photo, and ebook
    * Charge phone via USB port

   TV(TV tuner is optional)

    * Support ATSC/DVB-T/DVB-T2/ISDB-T

   Front In-Dash camera(camera is optional)

    * support forward video recorder while driving
    * Operate via touchscreen
    * Plug & Play

   SWC

    * Support original steering wheel control

   AUX

    * One channel A/V input for external device
 

   Google Play

    * Android Market provides numerous apps download,
      such as Skype/MSN/Youtube/Twitter/Facebook
      free download as much as you need

   Network

    * Wi-Fi
---