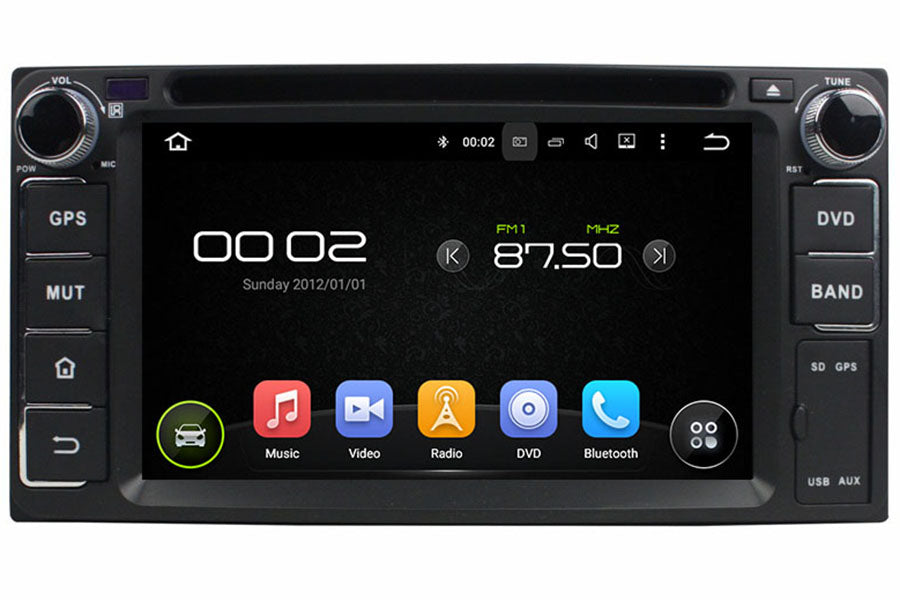 Toyota All-Vehicle Android OS GPS Navigation DVD Car Stereo (1997-2007)
CarPlay/Android Auto:
No Thanks
Front In-Dash Camera:
No Thanks
Aftermarket head unit for Toyota Series. The same size, harness and connectors as factory radio, plug and play, no cutting wires. Supports factory steering wheel controls, wi-fi, SD/USB music/video, DVD playback, Bluetooth phone call and bluetooth music, backup camera(optional), DVR(optional), TV tuner(optional), AUX IN port, Apple CarPlay(optional) and Android Auto(optional). Support Google map and preload offline map for your country so that you can use the navigaiton when there is no internet connection.
---
Compatible Vehicles:
Toyota Echo 2000, 2001, 2002, 2003, 2004, 2005
Toyota Hilux
Toyota Fortuner
Toyota Avalon
Toyota Avensis 1997 1998 1999 2000 2001 2002
Toyota Corolla
Toyota Camry
Toyota Land cruiser
Toyota Vios
Toyota Para Hilux
Toyota Hulix SW4
Toyota Majority
Toyota Prado 4500
Toyota Rav4
Toyota Crown
Toyota Florid
Toyota Cowry
Toyota Coolbear
Toyota Sequoia 2001, 2002, 2003, 2004, 2005, 2006, 2007
Toyota Yaris

 
Note above year range is for your reference only. Send a photo of the dashboard(radio system) of your vehicle to us to verify the fitness if you are not sure about fitness.
---
| | |
| --- | --- |
| Android | 10 |
| CPU | 1.6GHz Cortex-A53 64-bit Octa-core |
| RAM | SAMSUNG DDR3 4GB |
| ROM | 64GB Flash |
| Screen | 6.2 inch 800*480 Capacitive multi-touch screen |
| Network | Wi-Fi |
| Amplifier | Built-in DSP sound amplifier |
| Navigation Software |   |
| Navigation | Google maps/Offline Map |
| GPS receiver | External GPS Antenna |
---
   Navigation

    * Free maps preload and free updates
    * Stunning 3D visualization
    * Text-to speech direction
    * Support Google Maps, Waze, Sygic etc.

   DVD

    * Support DVD/VCD/CD/MP3/MP4/WMA/
      CD-R/MPEG4/JPG format disc

   Radio

    * Built-in AM/FM tuner
    * Support RDS
    * Support DAB+(tuner is optional)
    * NOT support Sirius/XM radio

   Apple CarPlay(optional)

  

 

*Support Apple Carplay with iPhone


   Bluetooth

    * Hands free phone call




    * Load phone book from you mobile phone




    * Bluetooth music stream A2DP




    * Internal & External Microphone




    * Compatible with iPhone & Android mobile phone

   Android Auto(optional)

   

 *

Support Android Auto with android phones


   Backup Camera(camera is optional)

    * Display reverse image automatically
      once put in the reverse
    *Sony CCD camera with night vision

   SD/USB

    * SD card/USB music, video, photo and ebook
    * Charge Phone via USB port

   TV(TV tuner is optional)

    * Support ATSC/DVB-T/DVB-T2/ISDB-T

   DVR(camera is optional)

    * support forward video recoder while driving
    * Operate via touchscreen
    * Plug & Play

   SWC

    * Support original steering wheel control

   AUX

    * One channel A/V input for external device



 

   Google Play

    * Android Market provide numerous apps download,




      such as Skype/MSN/Youtube/Twitter/Facebook




      free download as much as you need

   Network

    * Wi-Fi
---