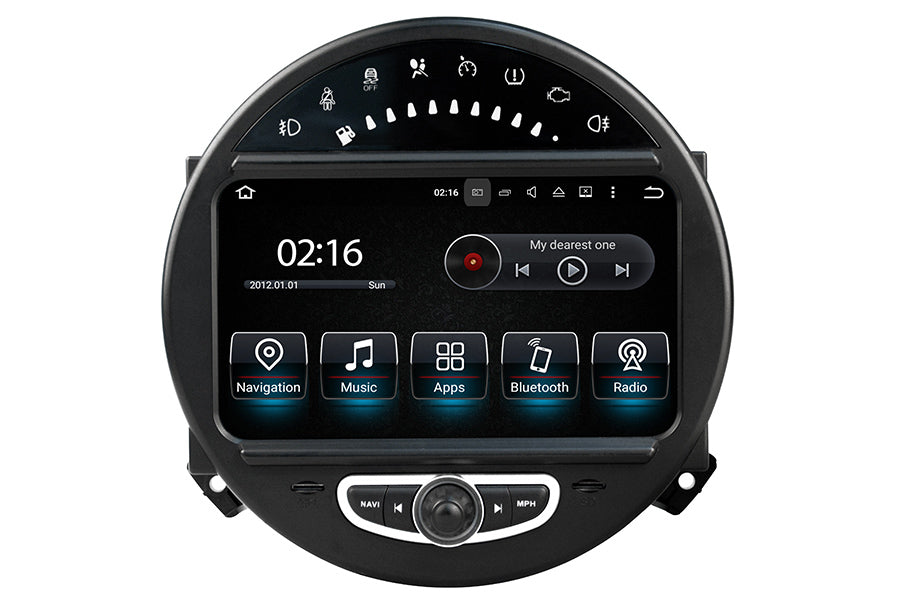 MINI Cooper Touchscreen GPS Navigation Car Stereo Upgrade (2006-2013)
CarPlay/Android Auto:
No Thanks
MINI Cooper 2006-2016 Aftermarket Radio Upgrade has an 8-inch touchscreen. It is used to upgrade the MINI Cooper stock radio system. The same harness and plugs as the original radio. After install this new unit, you will get an intelligent entertainment system with Touchscreen/Navigation/FM/AM/USB/SD/Wi-Fi/AUX-IN/Bluetooth phone call/Bluetooth music/DVD playback(optional)/DAB+(tuner is optional)/rearview camera(camera is optional)/Apple CarPlay/Android Auto/TV(tuner is optional)/OBD(device is optional)/Google Play etc. Support the instrument cluster indicator lamps and steering wheel control.
---
Compatible vehicles:
MINI Cooper R55(s)/R56(s)/R57(s)/R58(s)/R59(s)/R60(s)/R61(s) 2006, 2007, 2008, 2009, 2010, 2011, 2012, 2013, 2014, 2015, 2016

Note above year range is for your reference only. Send a photo of the dashboard(radio system) to us if you are unsure about fitness.
---
1. The DVD player is optional, if you do not buy the DVD player, then the original CD player will not work, but you can keep it there for looks.
2. This product is compatible with the MINI Cooper with both left-hand and right-hand drives.
3. This product is compatible with BMW audio system(S674/S676). If your car equips with S677/S688/S6F2 or BimmerTech Fiber optics amplifier audio system, there will be no audio after installing our product. Please DO NOT buy this product. Send the VIN and a dashboard photo of your car to us to check if you are unsure what audio system it is on your vehicle.
4. The software for the car with/without steering wheel control is different. Please tell us if your car has steering wheel control or not so that we can load the correct software for your vehicle before ship.

5. The speed unit on the screen supports km/h(KPH) and miles/h(MPH) when you press the right "MPH" button.

6. This product is only compatible with MINI without a factory navigation system. If your car equips with the factory navigation system, then it is not consistent. So please DO NOT buy it.
7. If the car has a black CD, as shown in the left photo below, this product fits it well. You do not need to modify the frame.
If the car has a silver CD, as shown in the right photo below, then you need to trim the existing frame to make it match our DVD unit. But if you do not select the "DVD Player" option, you do not need to trim the edge.
Or replace it with a genuine cover center console. The MFG part number is 51169206835 or 51169206836. You can buy a used one from eBay or your local BMW/MINI dealer.
---
Installation Photo
---
| | |
| --- | --- |
| Operating System | Android |
| Chip | 1.6GHz Cortex-A53 64-bit 8-core |
| RAM | 4GB |
| Capacity | 64GB |
| Display | 8-inch capacitive touchscreen |
| Network | Wi-Fi |
| SD/TF card | Two TF card slots |
| USB port | Two USB ports |
| Amplifier | Built-in sound amplifier, 4*45W |
| RCA audio output | Front-Left, Front-Right, Rear-Left, and Rear-Right(RCA port) |
| AUX input | One set A/V input(RCA port) |
| Camera | One camera input(RCA port) |
| GPS receiver  | External GPS receiver |
---
   Navigation

    * Free maps preload and free updates
    * Stunning 3D visualization
    * Text-to-speech direction
    * Support Google Maps, Waze, Sygic, etc.

   DVD(optional)

    * Support DVD/VCD/CD/MP3/MP4/WMA/
      CD-R/MPEG4/JPG format disc

   Radio

    * Built-in AM/FM tuner
    * Support RDS
    * Support DAB+(tuner is optional)
    * NOT support Sirius/XM/HD radio

   Apple CarPlay(optional)

    * Support Apple Carplay with iPhone

   Bluetooth

    * Hands-free phone call
    * Load the phone book from your mobile phone
    * Bluetooth music stream A2DP

   Android Auto(optional)

    * Support Android Auto with Android phone

   Backup Camera (Camera is optional)

    * Display reverse image automatically
       when put in reverse
    * CCD camera with night vision

   SD/USB

    * SD card/USB music, video, photo, and ebook
    * Charge phone via USB port

   TV(TV tuner is optional)

    * Support ATSC/DVB-T/DVB-T2/IDSB-T

   DVR(Camera is optional)

    * Support forward video recorder while driving
    * Operate via touchscreen
    * Plug & Play

   Steering wheel control

    * Compatible with steering wheel buttons control

   AUX

    * One channel A/V input for external device
    * One channel A/V output for the rear headrest 
      monitor/roof monitor/amp
 

   Google Play

    * Android Market provides numerous apps download,
      such as Skype/MSN/Youtube/Twitter/Facebook
      free download as much as you need

   Network

    * Wi-Fi
---