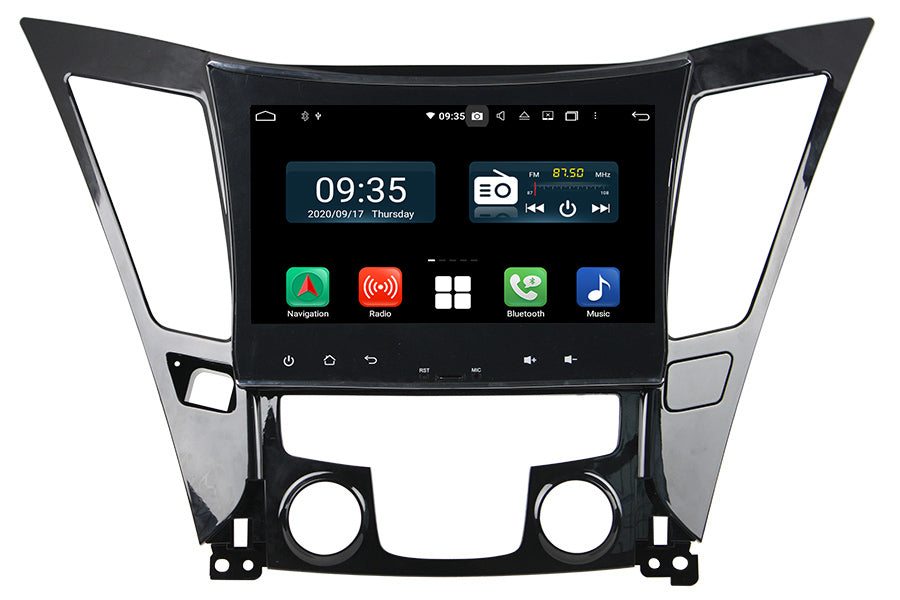 Hyundai Sonata (2011-2013) Aftermarket GPS Navigation Car Stereo
CarPlay/Android Auto:
No Thanks
Front In-Dash Camera:
No Thanks
Aftermarket GPS Navigation Head Unit is specially designed to replace the Hyundai Sonata/i40/i45 standard radio system(No factory navigation system). It has the same harness and plug as original radio, totally plug and play when install. After install this new unit, you will get an intelligent entertainment system with Touchscreen/ Navigation/AM/FM Radio/ Bluetooth/Optional Apple CarPlay and Android Auto.
---
Vehicles Supported:

Hyundai Sonata 2011, 2012, 2013
Hyundai i40 2011, 2012, 2013
Hyundai i45 2011, 2012, 2013

Note above year range is for your reference only. Send a photo of the dashboard(radio system) of your vehicle to us to verify compatibility.

Attention:

This product is not compatible with vehicles equipped with the factory touchscreen navigation system.

2. Support original Microphone
3. Support original steering wheel control
4. If you car has factory amplifier audio system or 6 CD-changer, then please add the CANBUS decoder from add-ons box.
---
Factory radio FYI
---
Installation Photo
---
| | | |
| --- | --- | --- |
| CPU |   | 64-Bit 8-Core Cortex-A53 1.5GHz |
| RAM |   | 4GB |
| Capacity |   | 64GB |
| Display |   | 9" 1280*480 touchscreen |
| Network |   | Wi-Fi |
| SD card |   | One micro sd card slot |
| USB port |   | Two USB ports |
| Amplifier |   | Built-in 4*45W DSP sound amplifier |
| Audio Output |   | Front left, Front right, Rear left, Rear right and Subwoofer(RCA port) |
| Audio/Video Input |   | Left/Right Audio and video input(RCA port) |
| Camera Input |   | One camera input(RCA port) |
| Microphone  |   | Internal & External(External microphone is not included) |
| GPS receiver  |   | Built-in GPS module and external GPS antenna |
---
   Navigation

    * Free maps preload and free updates
    * Stunning 3D visualization
    * Text-to speech direction
    * Support Google maps, Waze, Sygic etc.

              

   DVD

    * Not support DVD/CD disc

 
 
 
 
 

   Radio

    * Built-in AM/FM tuner
    * Support RDS
    * Support DAB+(DAB+ tuner is optional)
    * NOT support Sirius/XM radio

 

   Apple CarPlay

    * Support Apple Carplay with iPhone
 
 
 
 
 

   Bluetooth

    * Hands free phone call
    * Load phone book from you mobile phone
    * Bluetooth music stream A2DP
    * Internal & External Microphone(optional)
 

   Android Auto

    * Support Android Auto with Android phone
 
 
 
 
 

   Backup Camera(camera is optional)

    * Display reverse image automatically
      when put in the reverse
    * CCD camera with night vision

 

   SD card/USB

    * Play music/video from SD card/USB storage
    * Charge phone via USB port

 
 
 
 
 

   TV(TV tuner is optional)

    * Support ATSC/DVB-T/DVB-T2/ISDB-T

 

   Front In-Dash camera(camera is optional)

    * support forward video recoder while driving
    * Operate via touchscreen
    * Plug & Play

 
 
 
 
 

   SWC

    * Compatible with original steering wheel control

 

   AUX

    *  A/V input for external device
 
 
 
 
 
 

   Google Play

    * Android Market provide numerous apps download,
      such as Skype/MSN/Youtube/Twitter/Facebook
      free download as much as you need
 

   Network

    * Wi-Fi