The Stealth Interceptor 2300is was designed to take away all the financial burden, installation process, and product durability issues that come with the current available products. While going above and beyond customer expectations.
The Stealth Interceptor system comes with the NDR-23 interior component, which is a GPS driving recorder (DVR), that protects you from insurance trouble, including accidental liability, vandalism, and speeding tickets. We encased all the interior components into one. The GPS antenna, DVR, control panel, display, speaker and warning system, can now fit into the palm of your hand. It can be hardwired in, plugged into vehicles power outlet or you can use its rechargeable battery and be taken with you. It receives warnings wirelessly from the Radar(X, K, KA, KU) dialed into the set frequencies used by law enforcement to reduce false alerts and receives signals from the super-high-power diode laser diffusers that work against variable pulse rate(VPR) laser guns.
Our laser diffusers are completely encased not to allow water to penetrate their casing. Stopping any potential corrosion from taking place. Both the Radar and Laser diffusers plug into the power supply which needs to be installed in front of the vehicles radiator. It in turn transmits warnings wirelessly to the NDR-23 which also warns driver of upcoming speed traps and red light cameras. The engine components are installed with just 2 wires, as well as the NDR-23. No more labor intense hours to install, drilling into firewall. Plus you can now remove and install in your new vehicle easily.
App-Tronics made the NDR-23 easily updatable for future needs and wants of our clients, by simply downloading the update and installing it on the provided Micro SD card, you can ensure up to date technology for the User Interface.
SmartNav and Stealth Interceptor are the easiest systems to install. Read More.
Click Here to View Full Specs and Owners Manual
Detailed Specifications and Features
The Stealth Interceptor is completely updatable, allowing owners to update their system is a key feature that App-Tronics wanted to provide. One of our more popular updates done has been the "Shake on" feature. After you park your vehicle the NDR-23 will automatically turn on if the G sensor detects an impact. Using its own rechargeable battery it will record for one minute locking that video in a protected slot, hopefully capturing who hit your vehicle while you were away.
Quick mute alert: if the driver presses the power button once it will mute the current alert coming through the speaker. When a new alert comes in it will make it audible so not to miss a new threat from law enforcement.
Stealth Interceptors NDR-23 is the interior cab display, control panel, speaker and DVR component. Its fits into the palm of your hand and can be wired in or use power outlet.
The NDR-23 gives audible and visual alerts of X,K,KA ,KU and laser diffusers being engaged when law enforcement tries and fails to clock your speed
Just like our SmartNav the front view digital recorder with a Micro SD card (8GB card provided) makes for a fun way to drive, while recording interior sound, speed and GPS location with Google maps. Access your videos by removing the SD card and inserting into your home computer. ADR player automatically uploads to view and share your videos.
GPS driven DVR recorder that protects you from insurance trouble of many kinds, including accidental liability, vandalism, and speeding tickets. It can be unplugged and will run of its own rechargeable battery. Then used for such things as a nanny cam.
The GPS within the NDR-23 is used by the Stealth Interceptors 2300is to warn driver of upcoming marked red light and speed warnings.
Registered Owners will receive emails alerting them of updated formats for the NDR-23 and the Stealth Interceptor 2300is. Which will add new speed traps, red light cameras, as well as firmware updates for the system itself.
3 axis G sensor saves the recording in case an impact is detected, automatically.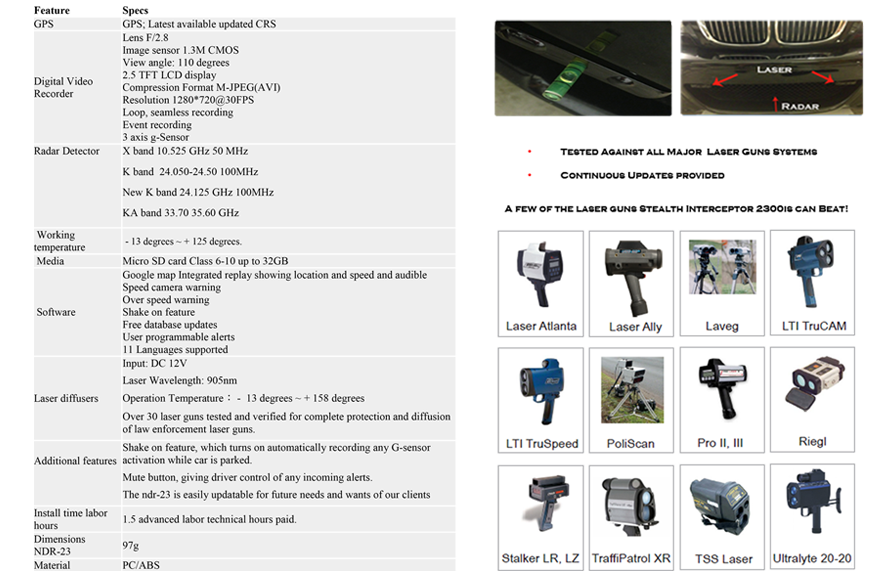 Currently there are no reviews for this product. Share your opinion with others, be the first to write a review.